Meet the Composer: Peter Sculthorpe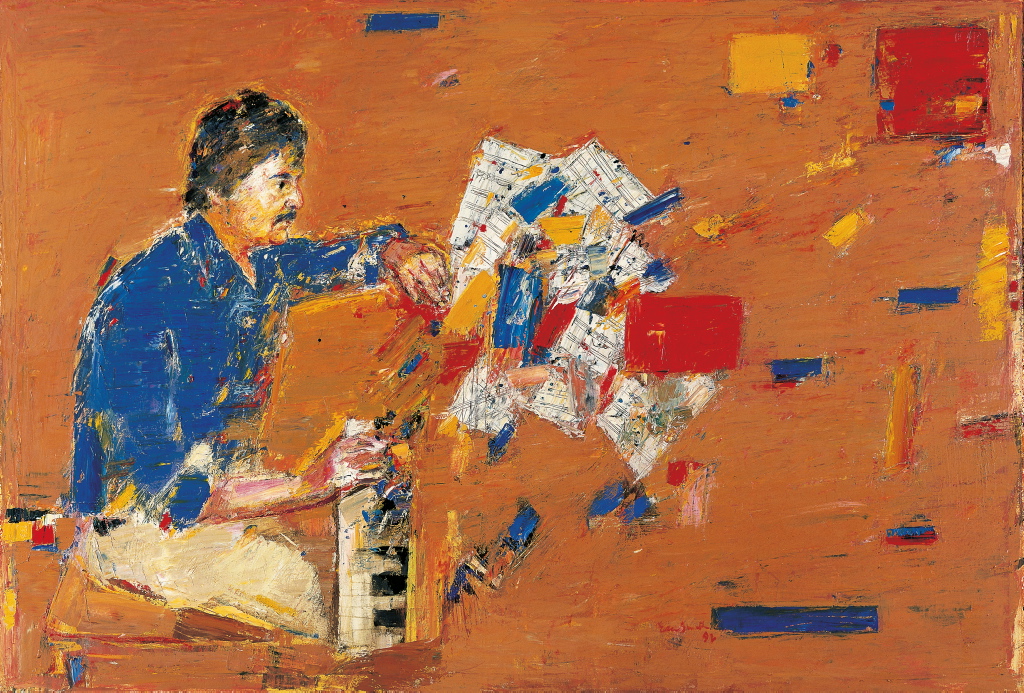 The music of internationally renowned composer, Peter Sculthorpe AO OBE will be one of the highlights of Music of Oz on on 24 November. We find out more about this fascinating man and his extraordinary music…
Born in 1929 in Launceston, Tasmania, Sculthorpe began life as a secret composer. When he started music lessons around age seven he immediately writing compositions by torchlight under the bedclothes at night. But in his very next lesson his teacher caned him for not practising! Miraculously, Sculthorpe was not put off by the time he got to High School, he decided to become 'the most famous composer in Tasmania', enrolling at the University of Melbourne at sixteen.
Here is wonderful little clip by Eric Smith's film portrait:
'All the Composers are Dead' Peter Sculthorpe 1982
In 1954 his sonatina for piano based on an indigenous Australian legend, was chosen to be performed at the 1955 ISCM festival in Baden-Baden, Germany. Four years later he was awarded a scholarship to study at Wadham College, Oxford. His teachers included Edmund Rubbra and Schoenberg's pupil Egon Wellesz – although he was to declare that neither had much influence on him.
Peter gave up his PhD after the death of his father and returned to Australia. In 1963 he was invited to teach composition at Sydney University which he was to continue until 1999.
'… he derives much of his inspiration from nature… Indigenous musics from the Pacific Rim (Aboriginal, Japanese, Balinese and the sounds of the wild birds, wind, thunder) are evocative sources. But his skill lies in the ability to synthesise these elements into music all his own, melancholic and desolate, but wonderfully coloured and rhythmically vital.'
– The Independent
Many of his works are passionately concerned with, as he said, "nature, the environment, and more recently, climate change". But he also claimed that Australia is one of the few places in the world "where one can honestly write straightforward, joyful music" – and he did.
He was made MBE in 1970, OBE in 1977, an officer of the Order of Australia in 1990, and an Australian National Living Treasure in 1998.
Composition Highlights
• Irkanda IV (1961) for violin, strings and percussion
• Sun Music I (1965) for orchestra
• Rites of Passage (1974) opera
• Port Essington (1977) for string orchestra
• Mangrove (1979) for orchestra
• Quiros (1982) television opera
• Piano Concerto (1983)
• Earth Cry (1986) for orchestra
• Kakadu (1988) for orchestra
• Great Sandy Island (1998) for orchestra
• Requiem (2004) for chorus and orchestra
• String Quartet No 16 (2005)
Tailitnama Song by Peter Sculthorpe will be performed by Coral Lancaster (cello) and Wendy Hiscocks (piano) as part of Music of Oz – a celebration of the musical culture of this diverse, vast and geographically remote Pacific continent on Friday 24 November at London's St. George's Church, Hanover Square.
https://celebratingaustralianmusic.com/wp-content/uploads/2017/10/Peter-Sculthorpe-by-Eric-Smith-1982.jpg
693
1024
revolutionarts
https://celebratingaustralianmusic.com/wp-content/uploads/2022/06/CAM-4-Square.png
revolutionarts
2017-10-29 16:02:30
2017-10-29 16:02:30
Meet the Composer: Peter Sculthorpe