Sunday 15 May 2022 5pm

St Giles Parish Church, Camberwell Church St, London, SE5 8RB
As part of the Music at St Giles programme of eclectic music at Camberwell's most beautiful venue, violinist Lucy Melvin presents music for violin to include Wendy Hiscock's Caprice.
JS Bach Partita in E Major, BWB 1006
Wendy Hiscocks (b.1963) Caprice for solo violin
Sergei Prokofiev Sonata for Solo Violin in D Major, Op. 115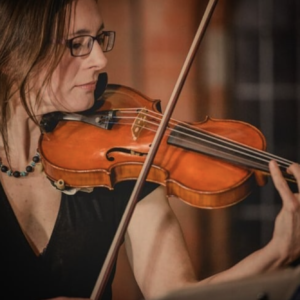 Lucy Melvin violin
Caprice by Wendy Hiscocks was composed in 1990 in response to a request to include a world premiere performance for a Diploma recital. The work has since found its way into the heart of many young violinists. The seed of inspiration was a close up photo on a postcard of a small bird in flight.
The music is composed in three sections: the outer parts flow with the currents of air and a sense of poise and free fall is required of the performer; this is followed by the more focused rhythms of the middle section expressing dance and pure joy. Watch the VIDEOS to hear this piece.